Norway is a beautiful country that offers international students a unique abroad education experience. Here we will explore the reasons why studying in Norway is an excellent option for Indian students, popular courses and universities, the education system, post-study work permit rules, the cost of studying, part-time work permit rules, and how Norway Education consultants in Kerala can help Indian students achieve their goals.
Norway is a Scandinavian country located in Northern Europe, having a population of approximately 55 lakh people. The country is known for its beautiful natural landscapes, mountains, and forests. There are many reasons why studying in Norway is an excellent choice for Indian students. Norwegian universities are known for their research-oriented approach, innovative teaching methods, and a strong focus on practical learning. Furthermore, Norway is a safe and peaceful country with an excellent quality of life, a vibrant culture, and a beautiful natural environment. The people are known for their values and promote social equality making it a welcoming and accepting place for international students.
Popular Courses to Study in Norway
Norway offers international students various courses and programs, including Bachelor's, Master's, and Ph.D. programs. Some of the most popular courses to study in Norway include:
• Medicine 
• Nursing
• Engineering and Technology
• Petroleum Engineering
• Renewable Energy
• Environmental Studies
• Marine Sciences
• Business and Management
• Social Sciences
• Economics
• Medicine and Health Sciences.
Norway has many excellent universities that offer high-quality education to international students. Some of the most popular universities in Norway include:
• University of Oslo
• University of Bergen
• Norwegian University of Science and Technology (NTNU)
• University of Tromso
• Norwegian School of Economics (NHH)
Masters Program- 2Yeaers
Ph.D. -3 Years 
• Study Medicine in Norway
• Study Economics in Norway
• Study law in Norway
• Study Chemistry in Norway
• Study nursing in Norway
• Study Business Administration in Norway
• Study Mathematics in Norway
Norway's robust education system is well-respected worldwide and is known for its high academic standards and innovative teaching methods. The education system strongly emphasizes practical learning and research, and many courses are taught in English to cater to international students. Norway's government provides the framework for education, including curriculum and standards and funding for schools. Teachers are highly trained and must have a master's degree in education to teach in Norwegian schools.
Free Universities in Norway for Foreign Students
Some universities in Norway provide free education to students globally without charging any tuition fee. Below is the list of universities that admit international students without charging tuition fees.
• University of Bergen
• University of Stavanger
• Bergen University College
• University of Oslo
• University of Nordland
• Oslo Metropolitan University
• BI Norwegian Business School
For more information please call/whatsapp at 7736750111 or send your enquiry 
English Taught Programs in Norway
As most of Norway's population speaks English, it is easy for Indian and other international students to study and live in Norway. There are over 200 bachelor's and master's programs in English medium in various streams. Below are the English-taught programs in Norway that are popular among Indian students
• Data Science in English
• Economics in English
• Study Philosophy in English
• Study Geography in English
• Study Medicine in English
• Electrical Engineering in English
• Study Biology in English etc.
Application Deadline & Intake
Most of the universities in Norway have one intake. The application deadline for various programs is between 1st week of December to Mid March, and the course usually starts in August.
Post-Study Work Permit Rules in Norway
Norway offers a post-study work permit to international students who have completed a degree program there. The permit allows students to search for employment in Norway for up to six months after graduation. Norway's post-study work permit rules are generous compared to many other countries, making it an attractive destination for students who wish to work abroad after completing their studies.
Cost of Studying in Norway
The cost of studying in Norway varies depending on the university and program. However, most universities funded by the Government do not charge tuition fees from international students. Students are only required to pay a small semester fee, which covers student union membership, health services, and other amenities.
Tuition Fee: The majority o universities in the government sector do not charge a tuition fee. But charge a semester fee between €35-€61.
Tuition fees at private universities:
For Undergraduate programs- in the range of €6,000-€8,000/Year
For Masters programs- in the range of €8,500-€16,000/yea
Cost of Accommodation
Norway's Govt provides a subsidy for student accommodation. After subsidy, the accommodation costs around €250-€600/Month.
Other Expenses
The other expenses include transportation, food, internet charges, etc. Overall, all expenses cost around €700-€1,200 a month.
Part-Time Work Permit for Students:
International students are allowed to work part-time in Norway while studying. Students from non-EU/EEA countries can work up to 20 hours per week during the academic year and full-time during holidays. However, it is important to note that finding part-time work in Norway can be challenging, and students are advised to have sufficient funds to cover their living expenses.
Requirements to study in Norway for Indian students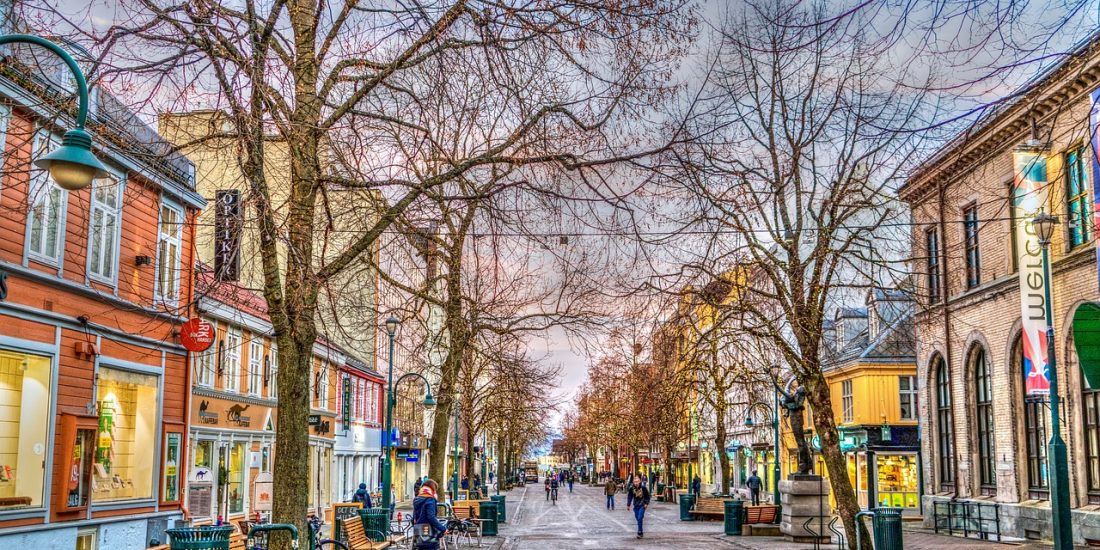 1. Admission Requirements: For Indian students looking for undergraduate courses, a pass in 12th is required with a score above 70%, while for graduate programs an undergraduate degree with 70% will be required.
2. Language Requirements: Most universities in Norway require proficiency in either English or Norwegian language. Students must provide language proficiency test scores in English or Norwegian to meet the requirement, which may be TOEFL, IELTS, or others.
3. Visa Requirements: Foreign students must obtain a student visa or a study permit to study in Norway. The visa process usually takes around a month or more, so it is better to start early as possible. Indian students need to apply to the Norway embassy in India for study visa.  The official website of Norwway Embassy in India is https://www.norway.no/en/india/
4. Health Insurance Requirements: International students must have health insurance coverage while studying in Norway. 
5. Fund: Foreign students must provide proof of having sufficient funds to support their expenses while studying in Norway. 
6. Housing Requirements: Some universities in Norway provide campus accommodation. If the campus hostel is unavailable, foreign students must arrange their accommodation while studying in Norway.
• All Educational Certificates
• IELTS Scores/Medium of Instruction (English)
• Health insurance
• Travel Insurance
• Proof of financial capacity
• Receipt of the fees
• A valid passport with a minimum of four months of validity
• Eight passport-sized photographs
• Statement of purpose
• Letter of Recommendation
Regarding language proficiency, many universities in Norway insist on IELTS test scores. While IELTS is a commonly accepted language test, some universities accept students without IELTS also. However, checking with the specific university and program is essential to confirm the accepted language tests and the minimum score required.
List of Scholarships in Norway
Below are the list of scholarships available to students pursuing education in Norwegian universities.
• NTNU Scholarship
• SCAR Fellowships in Antarctic Research
• Microsoft Research Fellowship (For Ph.D. Students)
• The ERASMUS+ Grant
• BI Presidential Scholarship
• CLIFF-GRAD Scholarship (For Ph.D. Students)
• Become JACK and JONES Scholar (For Ph.D. and Masters Students)
Students can apply for PR after getting a job offer and then apply for a residence permit after their studies. After three years, the resident permit holders can apply for PR after meeting other requirements. The period spent as a student in Norway will also be counted while considering the duration required to stay in Norway for PR.
Is Studying in Norway a Good Option for Indian Students?
Studying in Norway is an excellent option for Indian students looking for high-quality education, a safe and welcoming environment, and opportunities for post-study work. Norwegian universities are globally recognized for their academic excellence, and the country's focus on sustainability and environmentalism is aligned with India's development goals. Norway's generous post-study work permit rules make it an attractive destination for Indian students who wish to work abroad after completing their studies.
Students who completed their education in Norway can also apply for a job in other Scandinavian countries like Sweden, Denmark, Finland, Iceland, etc., as they follow a reciprocal system and can read each other's languages easily. The main drawback is that although the study is free in Norway, students need to show proof of having the fund to meet the expenses of one year .
Is Education Free in Norway?
As German free education system, education in public universities in Norway is free for Indians and other nationals. Government-aided Public universities in Norway follow a no-tuition fee system for international students. But private universities charge tuition fees to students.
Important Point to Note Before Apply
Although education in Norway is free, once the admission or visa is refused, it becomes complicated to get admission and visa approval again. So if you are doing the admission process, ensure that you do it correctly. If you are unfamiliar with the application procedures, engage an experienced Norway education consultant in Kochi Ernakulam or other cities in Kerala to avoid visa and admission rejection due to incomplete or improper information. 
How Norway Study Abroad Consultants in Kerala can help you?
Education consultants help students unfamiliar with the education system and admission criteria of the universities of Norway. Study in Norway consultants can help students to select suitable universities and courses, and provide guidance on visa requirements, accommodation, and living expenses. Consultants can also guide students to get higher education loans and provide support during their stay in Norway. 
Yes. Norway is one of the best countries with the top satisfaction score in Europe.
IELTS is not compulsory to apply to universities in Norway, but a profile with a minimum IELTS 6.0 score will improve the chances of getting admission.
To apply for a Norway study visa, you must produce proof of having deposited 1300 USD/Year in the bank account to meet your expenses in Norway.
Conclusion:
Studying in Norway is an excellent choice for Indian students looking for a unique study abroad experience that combines high-quality education with a safe and welcoming environment. The country's generous post-study work permit rules and opportunities for part-time work also make it an excellent option for students who wish to work abroad after completing their studies. Norway education consultants in Kerala can provide valuable support to Indian students who wish to pursue their education in Norway, making the transition to a new country and education system smoother and more successful.