Here we will provide you with valuable information on the visa requirements for Indian students looking to study in the USA. So don't wait; start exploring your study options today! As the top USA education consultants in Kerala, we can provide you with all information about USA study visa procedures like admission criteria, application procedures, documents, visa formalities etc.
Requirements to Study in the US
The most challenging factor in USA education for Indian students is getting a visa to the US for study. In order to receive this visa, you must provide documents and information related to points such as academic qualifications, financial stability, the purpose of choosing the USA for your education, etc.
Eligibility Criteria for USA Student Visas for Indian Students
To become eligible for the US study visa, Indian students must produce an admission offer letter from an approved educational institution in the USA and have financial resources to cover all educational and living expenses during their stay there.
Indian applicants must be able to convince the US authorities that their primary purpose for travelling to the United States is for study purposes, not immigration or employment. In addition, they must also provide evidence that they can bear all educational expenses along with other related costs such as tuition fees; accommodation; books; health insurance, and other living expenses while in the US.
Other eligibility criteria include submission of valid passports, recent passport-size photographs, evidence of English language proficiency (including TOEFL/IELTS scores) and bank statements or other records of funds, and proof of ties with family members in India. Additionally, if applying at a US Consulate or Embassy, Indian citizens may be required to attend an interview before receiving their visas.
USA Student Visa Requirements for Indians
With quality universities, challenging and stimulating coursework, and access to exciting career opportunities and resources not available in India, earning an American degree can help propel a successful career. However, before you begin your American study abroad journey, you must take several steps and fulfill some requirements to become eligible for acceptance into a US educational program. But don't worry, being the best US Education consultants in Kerala Kochi. We are here to help you.
Application Process for USA Student Visas for Indian Students
The application process for a USA student visa consists primarily of three steps: submitting necessary documents with proper receipts; being interviewed by a representative from the US Embassy or Consulate; and receiving your approved visa after all other requirements have been met satisfactorily by you—the applicant.
Applying for a USA Student Visa can be relatively easy if done correctly. The requirements for US student visas for Indian students may vary depending on the student's profile, selected course, university, etc. Those interested should always check with their local consulate to know what documents they need before beginning their application process.
To apply for a student visa from India, students will be required to have received and accepted an offer of admission from an accredited educational institution in the USA.
Applicants must then pay the visa fees before making an appointment with their local US embassy or consulate. The USA student visa application process can be done through any VFS visa centre in Kerala. You must keep documents such as proof of financial resources, evidence of your strong ties to India, transcripts, academic qualifications, etc. Applicants should remember that they will be able to convince the visa officer that their purpose of going to the USA is only to study and not settle there after the completion of their studies.
Documents Required for USA Study Visa
· Original copy of passport: The applicant must provide a valid passport that contains enough blank pages for affixing visas or stamps, should it be required for travel. Passports should be at most ten years old and have at least six months of validity remaining from the expected travel date.
· Certificate of Secondary Education: 10+2 Level: This must be certified by a notary confirming academic qualifications from previous studies in India or equivalent studies abroad (where applicable).
· University entrance exam results: All Indian students applying for undergraduate courses are required to submit their Standard XII exam results or All Indian School Certificate (AISSC) / Central Board of Secondary Education (CBSE) results.
Postgraduate applicants must show the 10+2 Level Certificate/GCE Exam result and their Bachelor's degree certificate with breakdowns/transcripts detailing grades achieved in each subject/module studied.
Final graduation result transcripts: These need to be provided from each university attended by either post or online submission – depending on individual college requirements – after completing all studies undertaken before submitting a US visa application form. Transcripts must clearly demonstrate successful graduation, with the timeframe for predicted course completion also noted clearly on the document.
Test scores: Some US universities may require applicants to provide test scores such as TOEFL, IELTS, or other subject sector-specific tests. Students can check these details on your chosen university's website admissions page(s). Most US universities usually expect evidence of English language proficiency before admission.
Letter confirming admission offer: The offer letter should be directly from your chosen college/university via printed original letterhead paper, which explicitly addresses you with details about the confirmation process along with the entire course & contact duration listed.
Financial Requirements for USA Student Visas for Indian Students
To get a US student visa, Indian applicants must provide evidence of sufficient funds. This evidence should show that enough funds are available to cover education and living expenses for the academic course in the USA.
The documentation needed for financial requirements for a USA student visa is as follows:
Evidence of the applicant's current liquid assets and investments, such as bank statements, fixed deposits, or pay slips from the past three months.

A letter from a sponsor confirming they are willing to support you financially while studying in the US and evidence of their income/savings.

Written confirmation and proof that scholarship funding is available if applicable.

A signed affidavit of support and evidence of sufficient funds from any family member or legal guardian who has agreed to provide monetary assistance during your studies in the US.
To show proof of funding, all documents should show an account balance above the estimated tuition and living expenses cost. The US Embassy officials may ask multiple questions about your sources of income or savings before approving a US student visa. You must answer all questions truthfully since any misrepresentation could result in the refusal or delay of your student visa application.
Also Read: Canada Study Visa
Interview Process for USA Student Visas for Indian Students
The Interview process for Indian applicants includes:
Obtaining all required documents.

Attending an interview at the US Embassy or Consulate.

Passing a background check.
The first step in the process is to set all the necessary documents in order. These vary depending on which type of visa you are applying for and should be discussed further with an experienced study in USA Consultant in Kochi, Kerala. Documents may include academic records, financial statements, portfolio samples, evidence of English language proficiency, and more.
The next step of the process involves attending an in-person interview at either a US embassy or consulate. For Indian applicants, the visa interview takes place at the US embassy in Delhi or US Consulates in Mumbai, Chennai, Hyderabad, etc., according to the applicant's location.
At this processing stage, applicants must provide biometric information like fingerprints and photographs as part of their application package through the VFS centers in the applicant's locality. During the interview, the visa officer may ask questions about your background and goals for studying in the US.
Lastly, you must pass a background check before the US Embassy or Consulate can approve your student visa that they are applying through. This often includes providing details on past travels abroad and information related to criminal activity or convictions that could disqualify you from being granted a student visa from the USA. Your USA education consultants in Kerala will be able to guide you and understand the USA study visa process.
Common Reasons for USA Student Visa Rejection for Indian Students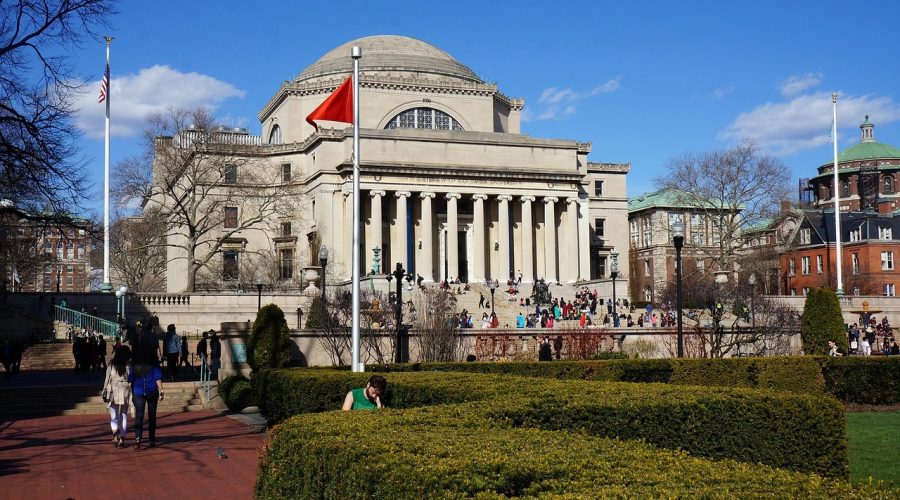 Obtaining a student visa to the USA can be lengthy and complicated if not done correctly. Some valuable information may help Indian students secure a successful visa application. When applying for a student visa, possible reasons why a visa may be rejected include the following reasons.
·        Inaccurate or false information.
·        Failure to show financial proof of sufficient funds.
·        Criminal record.
·        Lack of ties to your home country for return.
·        Unable to convince the visa officials about their intention to return to India after their studies.
The primary purpose for obtaining your student visa must be educational, and applicants should have received an admission offer from an accredited institution in the USA. In addition, the applicant's family must demonstrate that they have the financial resources to support them throughout their educational program in the United States. To prove sufficient funds are available, applicants may provide evidence such as scholarship awards, bank statements showing stable sources of income, and supportive documents from sponsors such as parents or guardians with alimony/support orders issued by courts if applicable.
Maintaining good academic standing throughout studies is vital to keep your student status valid. Any applicant with known criminal convictions will not qualify for US studies. Lack of strong ties to India, such as owning property in the parent's home country, could lead to denial as consular officers view the applicant's risk factors involving returning home after the study program is completed without issue. 
Finally, keep social media presence up-to-date without any postings that do not align with a proper, respectful attitude towards the immigration process itself. Such actions could result in adverse outcomes as visa applications of such applicants can be marked as unsuitable by US immigration officials.
Role of USA Education Consultants in Kerala
USA education consultants in Kerala help students study in the USA by guiding the application procedure, the importance of SOP, Tuition fees and other expenses, the Best universities in the USA
according to your profile and visa requirements, financial aid options, and other relevant information for visa approval. In addition to helping students prepare their application for admission, the consultants for US education ensure they are complete, accurate, and up to date. USA study abroad consultants also provide information about American universities, lifestyles, part-time jobs during studies, career options, housing options, and more.