Malta is a European country that offers several types of jobs for Indians. Most applicants looking for Malta jobs are from Non –EU countries like Asian and African countries, and a limited number of workers are from EU Countries. People from Third country nationals need a work permit to work in Malta, whereas citizens of EU member states can work in Malta without a work permit. Indian nationals need to apply for a Single Permit Application, known as an "e-residence card," which permits Indian and other Non-EU nationals to work and live in Malta legally. If you plan to apply for Malta Jobs in Kerala, contact the Malta job Consultancy in Kerala for Malta work permit details, salary and types of jobs available etc.
Malta Work Permit Process
The process for a single permit application usually takes 50 to 90 days. Once the work permit is granted, it will be valid for one year, and the work permit will have the details of the nature of the work, salary and employment details. The application for a work permit or e-residence card is to be moved by the employer with details of the applicant and work details.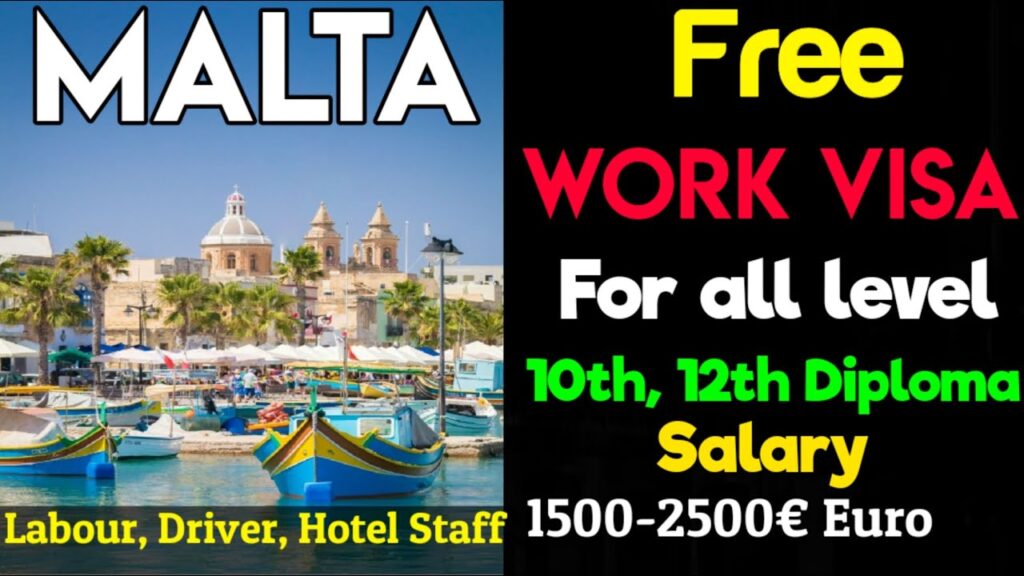 Call Malta job Consultancy in Kochi

Malta Immigration by Investment (MIIP) Program
MIIP, or Malta Immigration by Investment Program, is an immigration program introduced by the Malta Government to attract Non-EU citizens to relocate and gain EU citizenship. The MIIP programs offer many benefits to people looking for EU citizenship by investing a certain amount of money in Malta. There are several benefits associated with MIIP programs, including visa-free access to all EU nations.
The MIIP program is highly beneficial for business people, and wealthy individuals as the program require the applicant to contribute a reasonable amount of money (non-returnable) to the Government and investment in property in Malta. Other aspects of MIIP include the background check of the applicant. In short MIIP program is best suited for Non-EU nationals and their families looking for a second home and easy European access. The MIIP programs take around one year for approval. For more details about the amount of money required to be invested under the Malta Global Residency Program and the application procedure.
Who Can Apply for MIIP Program?
For Head Applicant
The age of the principal applicant should be above 18 yrs
Should be a citizen of Non-EU countries
Must not be involved in any criminal activity
Health Insurance
For Children
Unmarried children without age cap
Financially dependent
For Dependents 
Dependents can include the below
Is Malta a good country for Job & Immigration?
Malta is an excellent country for immigration and job. below are the top reasons
European country
Visa-free access to all EU Countries
Safe country
Safety of investment
Easy visa renewal
Option to settle with family
Get a permit to settle and do business in Malta
Easy access to Europe
About Malta
Malta is a small country and a member of the European Union. It is an island nation known for its pristine beaches and warm climate. The country has a multicultural population of around 550000 people. Tourism, financial services and the production of electronics components are Malta's major economic activities. Other activities include e-commerce and online gaming. Overall, Malta has an excellent quality of living, healthcare and a robust job market.
Other Information about Malta
Currency- Euro
GDP- $25 billion
Population (2023) 535,064
Job Openings Available in Malta 
Registered Nurses
Nursing Assistants
Care Home Workers
Cab Drivers
Beauticians
Security Guards
Packing Workers
Plumbers
Cleaners
Delivery Persons
Construction Workers
Physical Therapist
Clerks
Restaurant Workers
 Documents Required for Malta Job Visa
Original Passport with one-year validity
Work visa Application form
Job offer and employment from a Malta Company
Medical Certificate
Travel Insurance
Educational Certificates
Job Experience
6 Passport Size Photos on white background
Proof of Accommodation
How to Apply for Malta Jobs in Kerala?
Malta's Job application procedure is similar to other European countries. The best places to search for jobs are online platforms like Indeed, LinkedIn or Malta Government job websites. Make sure you create a CV with a cover letter highlighting your qualifications, experience, and the specific job you want to apply for. You can also contact any Malta Job Consultancy in Kerala to know about job vacancies, salary and other formalities, including the visa process. If you need more information about the Malta Job Recruitment Agencies in Kochi 
Malta Jobs in Kerala- FAQ
1. Is Malta a good country to work and settle for Indians?
Malta is a safe country and a member of the European Union. It is one of the best countries for Indians to settle.
2. Can Indians get PR in Malta?
Yes. Indians can apply for PR after fulfilling the eligibility criteria set for the citizens of Non-EU countries. The Malta Global Residency Program is open to Indians also.
3. Do Indians need a  visa for Malta?
All Non-EU nationals, including Indians, require a visa to travel to Malta.
4. Is there an age limit for a Malta work visa?
The applicant should have completed 18 years to apply for a Malta job visa and to qualify for Malta Golden Visa Program.
5. What are the major job sectors in Malta?
The health sector, IT and tourism are the major employment sectors for Indians and other Non- EU workers in Malta.
Also Read: Malta Student Visa